Veepee Commercial Building - France
A digital exhibition broadcasted on a large screen on the front facade of the Veepee Commercial Building located at the entrance to Paris.  The screen measures 12meters x 8meters and faces the highway entrance to Paris.
Hyatt Centric - Kota Kinabalu in Sabah, Malaysia
Series of paper-sculptures made for the upscale lifestyle hotel in the heart of Kota Kinabalu - the gateway to the state of Sabah in Borneo, East Malaysia.

This project was made possible in collaboration with Artlink Agency.
Abasolo Whisky - Dìa de Muertos
This project was created to celebrate the famous Mexican festival; the Day of the Dead. It was produced with the creative direction from the team at

Jetsam & Flotsam

.  This skull sculpture was made using the same white corns that

Abasolo

uses to create their whisky which is called Cacahuazintle.

***The poster was designed in house at Jetsam & Flotsam.
***The product shots are exclusive properties of Abasolo Whisky.
Harper Collins - Among the Beasts & Briars
Book art created for Harper Collins with the direction of Corina Lupp. Among the beasts and briars is a fantasy story written by 

Ashley Poston

 planned to release in fall 2020.

***Title typography was created in house at Harper Collins.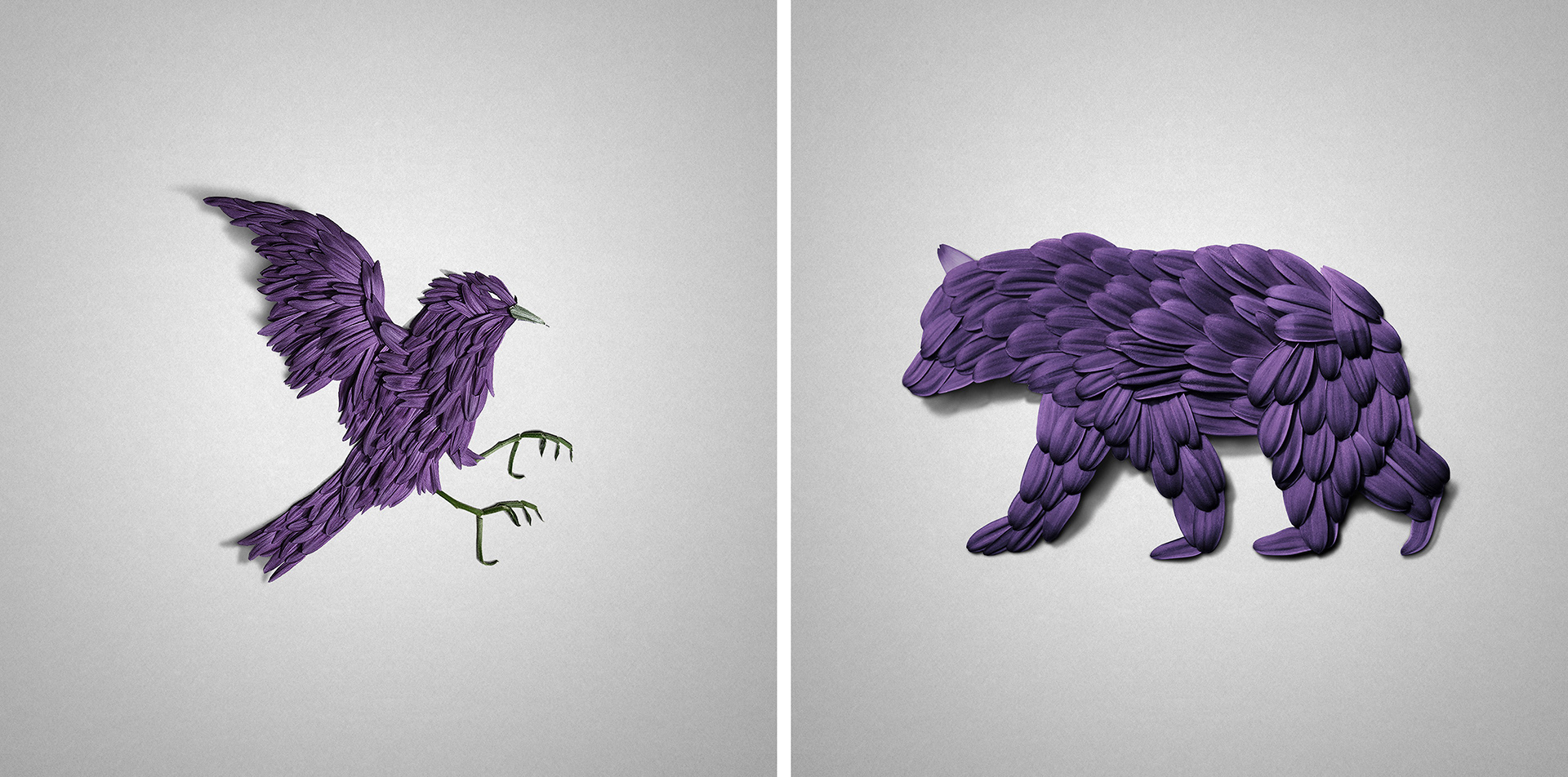 Mixed media illustration created for WSJ with the direction of Janet michaud and Keith Webb for a short article about small businesses getting inspired by nature.
Organic materials were arranged on top of a card-paper base structure. This project really came in a perfect timing as beautiful daffodils were starting to bloom in my backyard!
A sense of defying danger can be felt as being reckless and rebellious.  This edginess of the youth was something we wanted to apply to this project. It have been depicted by little hand-embroidered ladybugs carelessly crawling around while the Predator is watching.
***The pencil sketch and the product shots are exclusive properties of Maison Schiaparelli.
Role: Collaborator, Artist
The light shines the brightest when surrounded by the darkest shadows: this crystal made of hand-cut plexi-mirrors was designed and built to reflect lights while spinning on it's vertical axis.  It is a sparkling symbol of hope leading seekers toward the light.
I was also tasked to take pictures during the filming.
Role: Creative director, Prop-maker & photographer.
Le Québec en nous. D'hier à demain
This sculpture was produced for an advertisement campaign for Quebec's national holiday in 2013. Made of natural clay, this reinterpretation of the "fleur de lys" was polished down to make it look like if it was carved out of stone. The typography was made using polymer clay and the original background texture was made with real textured papers.  This was a
 commission for

Dentsu-Bos

Montreal under direction of the creative-director Simon Beaudry.